11 Best Lacrosse Sticks For Beginners in 2023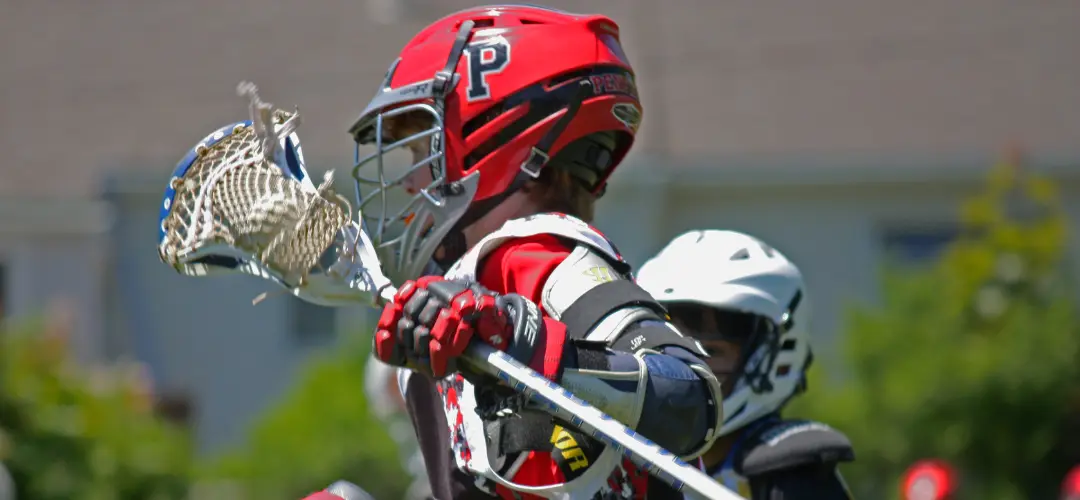 As a seasoned lacrosse player, I can understand the hectic job of finding a suitable stick. And if you are a beginner, you should never go on your own, otherwise, you will waste your hard-earned money on useless sticks. An ideal lacrosse stick is the extension of the body, it should match your personality, provide a game that every beginner dreams about, and allow you to improve the sports self.
If a stick does not deliver these major features, it is a piece of trash, now, whether you use it on the field or play indoors, the stick will never satisfy your needs. Well, I am here to wake you up from bad dreams and hand you over a stick that will support you in the long future. These best lacrosse sticks for beginners are personally used and tested so take a deep breath and dive in, everything will be fine!
Best Lacrosse Sticks For Beginners
1. STX Lacrosse Stallion 50 Youth Lacrosse Complete Stick – Best Youth Lacrosse Stick


Key Features:
It will be good for every beginner to use a lightweight lacrosse stick. Basically, the purpose of having light sticks is to get maximum control over the game. And if you are the one who is searching for the most convenient way to control sticks, see the STX Lacrosse Stallion 50 Youth Lacrosse Complete Stick. I have been using it for years and the story begins when my coach introduced me to the stick as I got admission to the club.
I was unable to control the ball and sometimes because of fatigue, it was hard to move faster. My coach spotted the problem and then he asked me to buy the STX Lacrosse Stallion. To be honest, it completely changed my gaming skills within a few weeks. First, I learned how to tackle the ball in times of pressure. As the stick is for attackers, it allowed me to trick the opponents mercilessly. Then comes its versatile net, the stick has a soft mesh-made pocket.
Beginners required deep pockets for enhancing ball security. In this way, one can effortlessly keep the ball for a little more in the net and then pass it toward the partner. Anyhow, my previous lacrosse stick was not bad but the ball always used to pop out from the pocket. It was a terrible thing to deal with but the difference I noticed between this lacrosse stick and my previous one is, it offers more forgiving off-the-center catches.
Specifications:
Attacking architecture
Pre-strung pocket
Alloy shaft material
Bottom Line:
It is possible that you do not find anything special after reading about it but it does not mean the stick has nothing to offer. I just showed you a drop, it is your responsibility to go use it and explore the entire sea. As well, the stick is highly durable, providing almost 6 to 7 years of service life. Click on the button and order this one of the best lacrosse sticks for beginners.
2. CAKLOR Lacrosse Complete Attack/Midfield Stick – Best Beginner Lacrosse Stick


Key Features:
A common problem I faced at the beginning of my career was anxiety and stress in the field. These are human experiences we cannot stop, but mental pressure and high body activity trigger sweating. We both know, it is extremely irritating and also minimizes performance. But I have a solution for you and its name is CAKLOR Lacrosse Complete Attack/midfield stick. I started using this stick a few months ago and it really impressed me a lot.
First, I noticed that its grip drinks up all the sweat. Later I found out, the grip is made of composite materials including leather and nylon. That's why I do not need to change it every month. Then comes, the ability to meet targets, this stick is known for its high accuracy. Actually, the stick has a special pocket design which I call the precision pocket style. Such pockets are deep and impact resistant with smooth debility capabilities.
When I used it for the first time, I was a beginner but after using it for several months, it promoted me to the teams of intermediate players and now I am enjoying the status of advanced lacrosse warrior. All of this happened on the basis of accuracy. The pocket has a target head shape for enhancing the trajectory of shooting or passing the ball effortlessly. Plus, the stiff shaft contributes to the accuracy by providing more control.
You may find it unrealistic but I have experienced while playing with CAKLOR Lacrosse that the stick is lightweight like smoke. That is the reason why it increases the speed of the player and allows him to move quickly. The average weight of the stick is about 15 ounces only while other sticks are 5 lbs or sometimes 10 lbs. However, if you want to show something different on the field you should purchase this one of the best lacrosse sticks for beginners.
Specifications:
Alloy material
30 to 40 inches length
Attacker plus midfield architect
Bottom Line:
The above stick, the STX Lacrosse was a great one at the beginning for me but you cannot progress until you find a better sports arsenal. The previous one had an attractor architect but CAKLor Lacrosse provides attack or plus midfield abilities. It is a chance to get a stick you always wished for, go and purchase it.
3. STX Lacrosse Stallion 200 Boys Complete Stick – Best Lacrosse Sticks For Beginners

Key Features:
Now I am going to address a lacrosse stick that has served me for years and still, and I am using it for training. When it comes to the best lacrosse sticks for beginners, it is hard for me to resist and not talk about STX Lacrosse Stallion 200. I used this stick for more than 3 years in the early period of my career, and believe me, it took my game from zero to the upper level. There is not a single feature I have explored but a completely unique genre of lacrosse sticks.
Some claim that beginner's sticks are not for hard games but if I tell you my experience, it is totally the opposite. STX Lacrosse Stallion 200 is, of course, one of the best lacrosse sticks for beginners. It is also suitable for upper levels such as intermediate, advanced, and expert. The reason behind such a versatile job is its design and ultra-durable and highly attributed grip.
Let me tell you about the grip first, imagine a ball coming towards you at double speed and you have to stop it. In case you have a normal lacrosse stick, it will cause some trouble. Local sticks cannot resist the impact of the resistance and sometimes they cause heavy vibrations and you may lose the target. This stick has an octagon grip which is perfectly thick and has the ability to eliminate such issues.
CAKLOR Lacrosse has an adorable grip but it cannot stand against impact STX Lacrosse Stallion 200 has the power to vanish any kind of heavy or light vibration. Moving on further, the stick has a flexible shaft with the ability to adjust according to the level of the player. I am not talking about the size adjustability but the ability to perform according to the skills of the player. This feature fascinates me more than its other properties.
Specifications:
Attacker, defense, midfield, and face off architect
30 inches handle long, good for 9 to 14 years old players
Textured grip
Bottom Line:
I will never recommend this stick to you if you are looking for a normal one because it possesses precious features which no stick is offering right now. If you are still doubtful, go and compare its features, looks, design, shape, material, pocket, and grip with other sticks and you will see a difference.
4. Signature Lacrosse Junior Lacrosse Stick – Best Lacrosse Stick For Beginners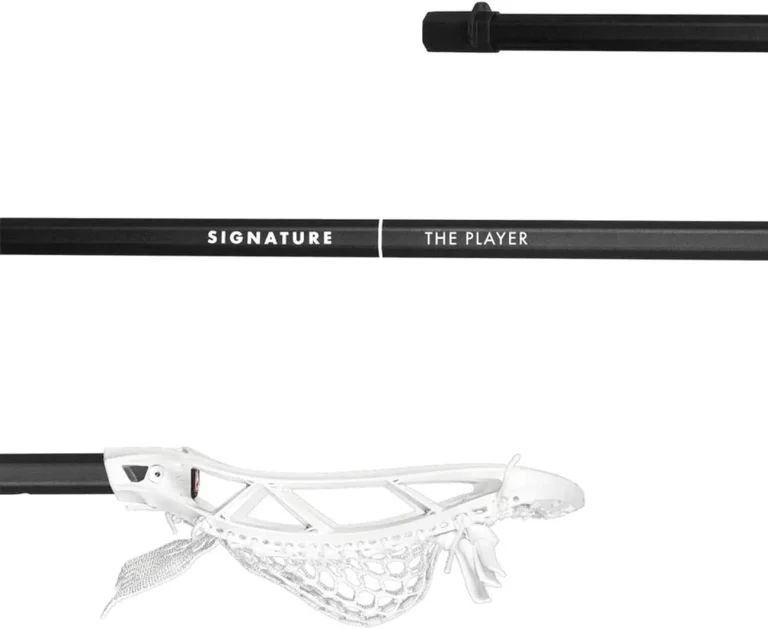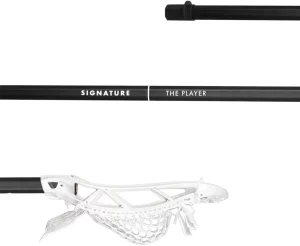 Key Features:
The journey for the best lacrosse sticks for beginners will be incomplete without mentioning the best selling sports equipment. It is famous for its lightweight, head design, flexible body, outstanding composite material, and flexibility. Yes, your guess is accurate, I am talking about the Signature Lacrosse Junior. The stick is incredibly remarkable in all aspects. It is approximately 250 to 350 grams heavy.
This means you can effortlessly maneuver and trick the opponent without wasting much time on the ball. Second, you can move freely, wander quickly, and run in all directions. Then comes its alloy material shaft which claims that the stick is the most durable on the list. Probably, you have never seen such a long-lasting lacrosse stick, it has almost 8 years of service life if you take proper care and keep it maintained.
Unlike other sticks with small sizes and uncomfortable to handle, it has a universal size of 36 to 42 inches. Whether you are gifting it to a big kid or purchasing it for your young one, it will suit both of them. Well, you might have experienced the frustration caused by sweating. It is a natural phenomenon but if you are unable to solve it, you should take a deep breath and buy this lacrosse stick.
You might have used round heads or wide heads lacrosse sticks. They have a history, no one could ever control them perfectly. But it is time to be one who can tackle the ball within a second because the stick has a scoop head. This type of head design enhances the ground pickup delivery and improves the short force. On the other hand, scoop heads are beginner friendly, they can straightforwardly accomplish any goal with the help of the stick.
Specifications:
Scoop head
Composite material pocket
36 to 42 inches shaft
Bottom Line:
It is impossible to score none if you have a Signature Lacrosse Junior stick. STX Lacrosse Stallion 200 was excellent but the small height has limited its activities, while this one has a universal height. However, it is up to you whether you purchase the best one like this or go for local lacrosse sticks.
5. StringKing Complete 2 Intermediate Attack Lacrosse Stick – Best Lacrosse Stick Beginners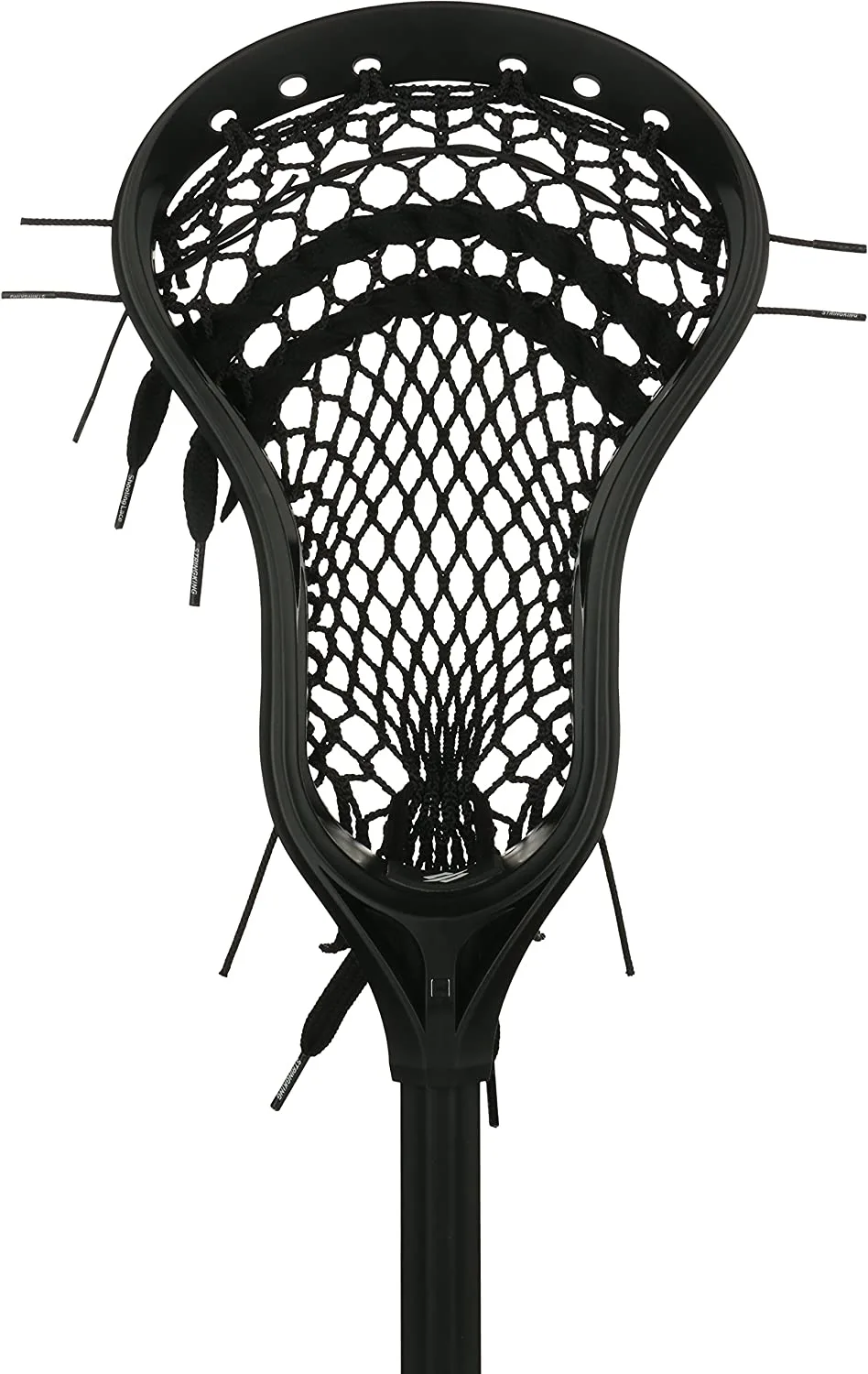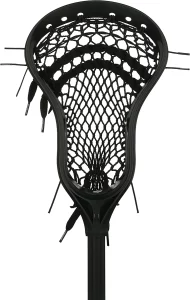 Key Features:
It is time to present you with a revolutionary lacrosse stick for you, the StringKing Complete 2 Intermediate Attack Lacrosse Stick. Now you will ask the question that the name suggests that the stick is for the intermediate player so why am I mentioning it in my list of the best lacrosse sticks for beginners? The reason is versatility, it is a highly versatile lacrosse stick that provides highly reliable performance.
I will tell you how; I took the Stringking Complete 2 Intermediate Attack Lacrosse to stick to the club once and it was extremely cold. But the stick was providing such an incredible performance in an icy environment. The very next day, it was raining while this stick was doing as it should be. I used it in both harsh and cold types of weather, the stick always proved itself.
On the other hand, the stick is great for all levels of players, especially the intermediate and beginners. Anyhow, the sleek design and attractive body of the black and white stick always captivated me. In the beginning, I used to believe that heavyweight sticks were more powerful and provided better jobs. But when I started using this one, my myth was discarded and currently, I use lightweight sticks like StringKing Complete 2.
The second reason I am recommending it to you is its ultra-durable grip. First, the grip is made of rigid rubber. Not only this, the grip has cushioning foams to keep your palms relaxed and provides them with a heavenly peaceful experience. Let's say, you do not focus on the grip and use a hardcover stick. You may experience Dupuytren's contracture, a medical condition in which the hand hardens. But this stick will eliminate the chances of such medical issues.
Specifications:
Cushioning handle grip
40 inches overall length
1.1 lbs weight
Bottom Line:
I might not be able to describe all the features and specifications of the stick, nor you may read the entire list because of the time shortage. But I just want to assure you that the stick is manufactured by a reputable brand. Plus, it comes with a warranty so, if you have any problem in the future, you may claim the stick.
6. Epoch iD Jr. Complete Lacrosse Stick-Youth – Lacrosse Stick Beginner


Key Features:
I have explained to you the 5 best lacrosse sticks for beginners but still, my favorite one is undercover. Usually, I do not like to share my secrets for success but for the sake of honesty I am going to present my one and only, all times close to heart stick, the Epoch iD Jr. Complete Lacrosse Stick. The most heart-touching feature is, this stick comes pre-assembled and pre-stung, you do not need to do anything.
The majority of the pre-assembled sticks are not good because the assembly and strings require a little customization. But this lacrosse stick has a naturally perfect setting, you do not need to change not a single string nor are you required to take the mental stress of customization. Then comes its lightweight shaft which offers the users to comfortably play.
The most attractive property of the shaft is that it is extremely flexible. In simple words, once you hold the shaft you will never miss any delivery. Whether you are an attacker or you like to stay on the defense side, the stick will help you in all conditions. Although small sticks of 30 inches are good for handling, if you have a longer one, it can prevent you from many disastrous situations.
No doubt, a longer stick provides more range plus allows you to stop the ball from a long distance. Well, this stick is about 40 inches long so you can freely move it all around the field. Then comes the wider head with 5.6 lies and a curved body pocket. Double durable strings have no chance of deteriorating neither will ever come out of the pocket in case you do not use the stick harshly.
Specifications:
Consistent performance
Ideal for 6 to 10 years old players
40 inches length
Bottom Line:
Still, if you are unable to choose the stick, then, the problem is not in the sticks but inside your mind. You are not trusting any brand or stick. But I will offer you to compare all the above 5 sticks with this one and you will realize why I have a reason to like Epoch iD Jr. Complete Lacrosse.
7. STX FiddleSTX Two Pack Mini Super Power – Lacrosse Stick For 5 Year Old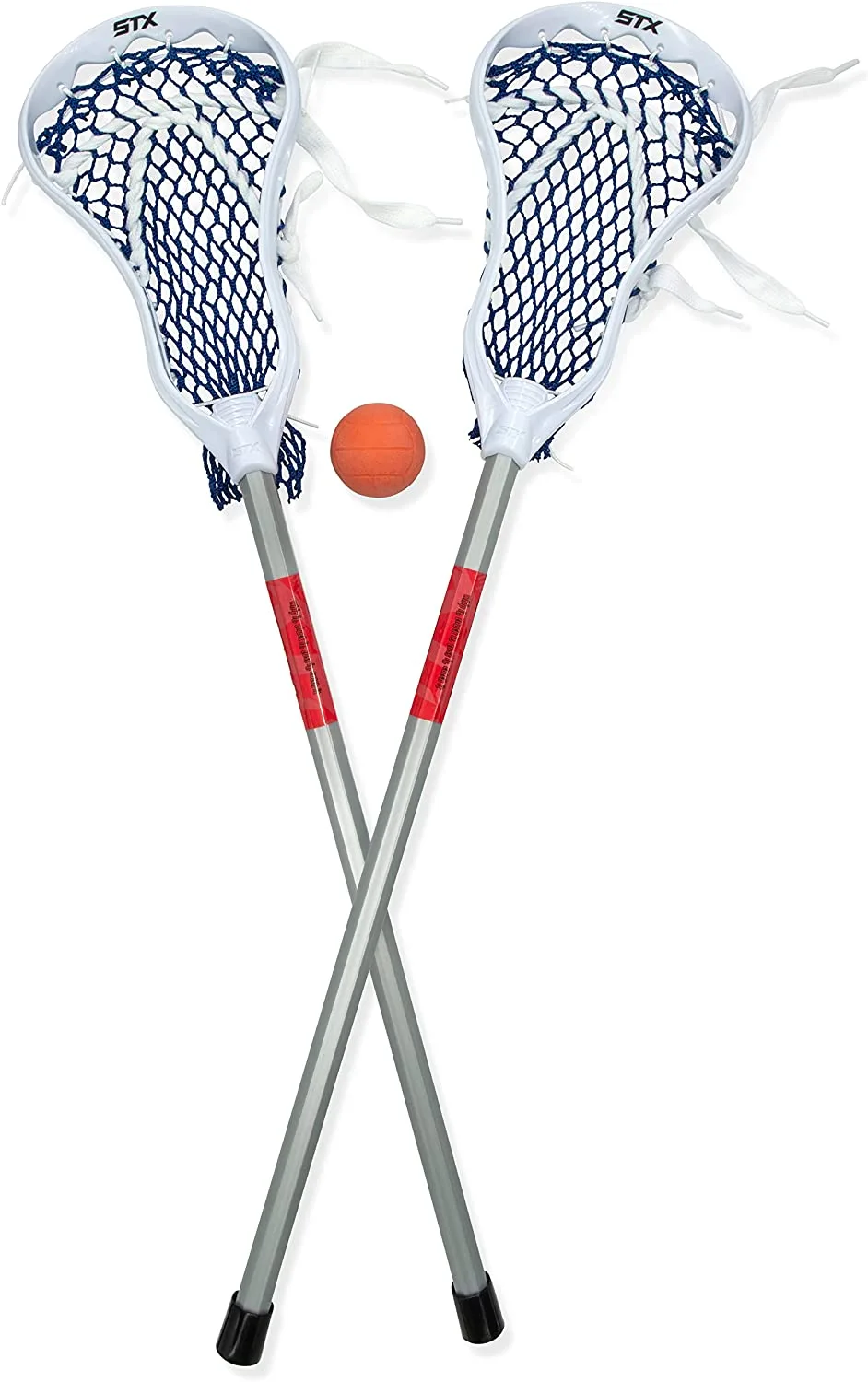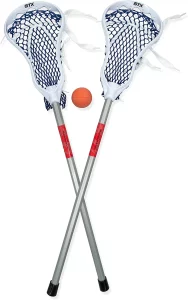 Key Features:
If you are looking for a stick for your kid, you should check out my 7th recommendation, the STX Fiddle STX Two Pack Mini Super power. The stick is known for its lightweight as it is made for kids so it has a plastic shaft. Plus, it comes with a pre-assembled body with a pre-strung pocket.
Then comes its versatility. If you want to host your kid in a club and also like to play with him indoors, you should buy this stick because it offers both. The stick is made indoors and outdoors, so be stressless and bring it home, your kids will love this gift.
The stick is about 30 inches long and made of double polymer. In case your kid is careless or hyperactive and breaks stuff, you can buy him this because its double polymer is unbreakable. However, the stick is for 5 years old to adults so you can offer it to a teen or adult offspring.
Specifications:
For unisex-teens
30 inches length
White and gray color
Bottom Line:
The stick is for kids and adults both, but I will recommend you if you are just starting tomorrow, then you should use this one of the best lacrosse sticks for beginners. In more appropriate words, you should pick it up in case you have zero experience. It will make your journey easy and entertaining.
8. STX Lacrosse Fortress 300 Girls Complete Stick – Best Lacrosse Stick For Beginner Girl

Key Features:
If you want to take the game to the next level, here is my 8th recommendation, the STX Lacrosse Fortress 300. The stick is not famous because it is only for girls but because it is also a life changing equipment. It has only advanced features such as the flexiScope technology or the C-Channel technology to enhance the power and control of the player over the game.
Anyway, the flexiScoop technology is there to push the limits beyond imagination. Basically, it offers a smooth and flexible job. In case a ball comes in full speed and you try to resist it as the stick is for defense. But once you catch the ball, it will cause a vibration in the whole crosse. It is because of extra rigidity but if you use a flexible stick then you can solve the problem.
Further, the C-Channel technology is for increased stability while you play. The previous STX FiddleSTX Two is a great one but it has weaknesses in terms of stability. On the other hand, the C-Channel technology for delivering more rigidity to the head to get stable hits. Plus, it also increases the life of the pocket by absorbing and empowering the sides.
Specifications:
C-Channel technology
Composite material
For defense position
Bottom Line:
The stick I have presented is the most unique in all aspects. You can check its durability; it is long-lasting and provides 6 to 8 years of service life, or test the performance; it increases the ball control and ball retention. The stick will always please you with its rare to find properties.
9. STX Lacrosse Fortress 100 Complete Stick – Beginner Lacrosse Stick


Key Features:
Another one of the best lacrosse for the beginner is STX Lacrosse Fortress 100 Complete Stick. It is known for its fortress head and ballistic mesh pocket. I did not recommend it, in the beginning, to keep you curious at the end of the guide. However, the nylon material head fortress head is engineered to get maximum balance and stability while running or resisting the ball.
It enhances ball retention and allows users to take the game to the peak level. Stepping ahead, the plastic mesh pocket is made of durable stings. It offers you customizable strings so you can deal with them according to the field and the requirements. Plus, the plastic mesh is also perfect for getting maximum results in terms of service life. It offers 5 to 7 years of lifespan for the pocket.
The launch pocket design is also adorable for a balanced combination of hold and wipe. It increases the accuracy and provides you with more target-focused deliveries. On the other hand, the grip has sweat-absorbing abilities as it soaks up all the sweat and provides a smooth and cushioning surface.
Specifications:
43 inches long
16 ounces weight
Suitable for defenders and midfielders
Bottom Line:
If you compare both the STX Lacrosse Fortress 300 and 100, the latter is more versatile as it is designed for both girls and boys. Plus, this version has a textured shaft with durable paint. No matter if you use it in direct sunlight or play in the rain, the paint will never fade away.
10. STX Lacrosse Youth Girls Lilly Complete Stick – Best Lacrosse Stick For Youth Girl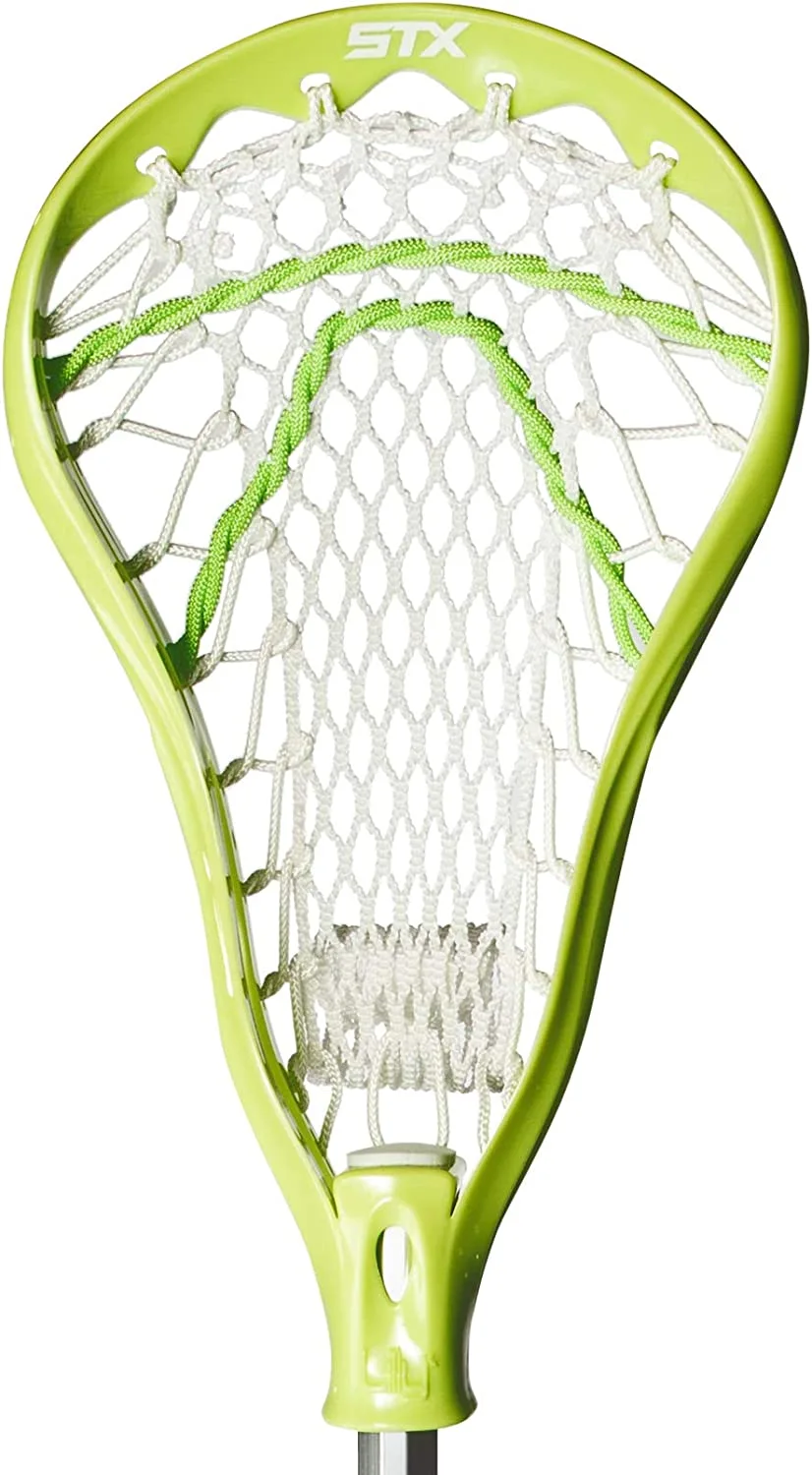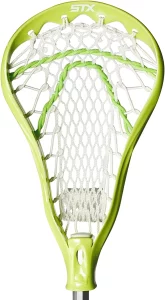 Key Features:
My second last pickup is the STX Lacrosse Youth Girls Lilly, a complete stick with so many fascinating features. First of all, it offers a unique character that the STX Lacrosse Fortress 100 and 300 do not provide, the True Offset technology. In simple words, it is for deeper pocket placement as the sidewall holes are set back from the point of the center axis.
It enables the player to catch the ball conveniently and then throw it with full power. On the other hand, the stick is made for girls because they face a major sizing problem while using unisex sticks. Therefore, it offers a universal size for women, 36 inches overall length.
It is important to perform better than others in the field, for such purposes one needs a unique stick with a suitable head shape. That's why the STX Lacrosse Youth Girl provides a concave head shape to enhance the performance and keep the balance of the player. Those who are interested in long-lasting sticks should know that the crosse provides 6 to 7 years of service life.
Specifications:
36 inches long
12 inches maximum length
Composite material
Bottom Line:
Perfection is a dream for every lacrosse player but it can be a part of reality if you start using the STX Lacrosse Youth Girl. My trainees have been using it for years and they are more than just satisfied with its performance. I notice daily improvements in their gaming skills. So, bring it two, the second for the friend.
11. STX Lacrosse Crux 100 Complete Stick – Best Lacrosse Stick For Beginners


Key Features:
Nothing can stop you if you are holding an ideal lacrosse stick whether you are a beginner or you are playing for years. To provide you with that ideal stick I am going to mention my favorite STX Lacrosse Crux 100. When it comes to the Crux 100, it is hard for me to stay unbiased.
The stick is made of multiple materials including plastic and alloy. It provides such an incredible job when you are using it on the defense side. As some reported that the STX lacrosse Youth Girl is shorter, I thought to provide my trainees with Crux 100 because it is 42 inches long.
With adjustable pockets and premium-grade strings, the stick has maintained its position in the best selling sports equipment. Moreover, the brand is trusted so people are rushing to buy the stick. Do not wait until the best hour, you will regret it later, go and purchase one of the best women's lacrosse sticks.
Specifications:
For girls only
Pre strung mesh pocket
42 inches overall length
Bottom Line:
The previous stick was a bit expensive compared to this one. STX Lacrosse Crux 100 has a price to offer all kinds of players, laymen, or people who can spend money. Well, it will be the smartest decision if you purchase the stick at a reasonable price that offers luxury features.
Buying Guide
Type Of Stick:
There are two major categories of lacrosse sticks. The majority of beginners find themselves in a state of confusion while buying the stick. The first is separate head sticks; the shaft and head come separately. These sticks are often used by people who like to customize the sticks according to their skill level.
Then comes the sticks which are regarded as complete sticks. They come pre strung, preassembled, and gripped. Such sticks are commonly used by beginners because they are easy to manage and do not require much care. So if you are seeking a beginner stick then go for the complete sticks.
Position Of The Player:
Then comes the position of the player, which means, where the player stands such as attacker, defense, or midfield. Some people ask, is it important to consider position? The answer is, yes. Basically, the attacker sticks are good for being aggressive on the field. Further, the defense sticks have ball retention or more control abilities. So, consider the position of the player before you purchase a stick.
Material:
Another major must-have feature of the stick is the durable plus flexible material. You should always check the material because it matters a lot. Majority of the beginners use composite or alloy-made sticks. These sticks are lightweight and provide better service life. Plus, the sticks do not require maintenance. On the other hand, there are aluminum, steel, and plastic sticks, But I will advise you to use alloy or composite material sticks.
Frequently Asked Questions
Conclusion
Lacrosse is a game of passion and entertainment, it offers fun and keeps you healthy. Playing lacrosse could be easy for experienced guys but beginners face considerable challenges while lifting or handling the stick. To eliminate those challenges and learn to play lacrosse quicker than others, I have presented the 11 best lacrosse sticks for beginners. I also have mentioned a buying guide, go and purchase stressfully. Here are my two favorite sticks.
Also see: Best Women's Lacrosse Sticks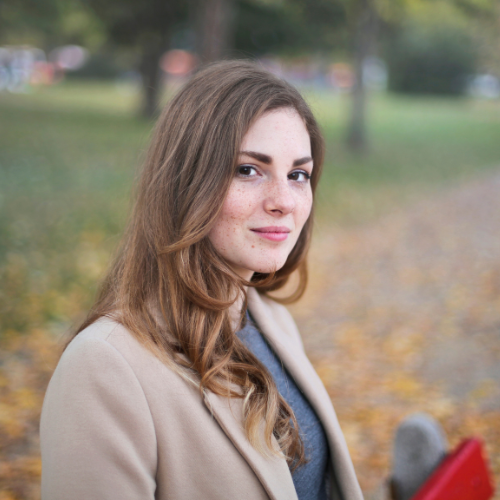 About Author
Hello, I am Amber Zoe. I have liked to play lacrosse since my childhood. I like to play with different teams. I have also been a coach because of guiding the team members well. Not only do I provide athletic guidance, but people know my preference for picking up lacrosse accessories. Because I always read everything very deeply and give a proper review. I have played almost every type of lacrosse ball and sticks. Millions of people liked my advice to get the best lacrosse accessories. So I have decided to write lacrosse reviews for a decade. The information I placed on my review is practical and authentic. You can buy anything which I prefer without any hesitation.