13 Best Women's Lacrosse Cleats – (Updated January 2024)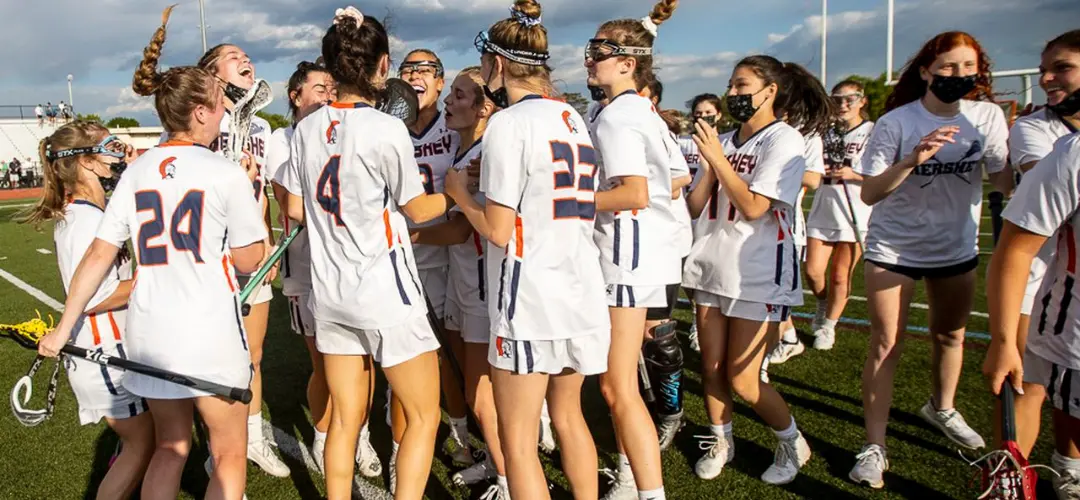 Slippery slides on the lacrosse field are not only frustrating but also create a gap between you and the victory. Imagine you are running so fast to stop an opponent and suddenly you slip badly. Being a woman lacrosse player I can understand the embarrassment and sensation of inferiority that occurs at such points in the game. The only solution to solve this problem is to use cleats that provide better grip, balance, and body management.
If you want to create a difference in lacrosse, especially in the world of women's sports, you should focus on the footwear you use right now. But when it comes to women's sports, especially lacrosse, we have a few options left in terms of footwear. Actually, brands manufacture women's cleats but they are not very popular. Well, we need someone to search for the best women's lacrosse cleats and bring them to us.
Best Women's Lacrosse Cleats
Finding the ideal cleats for women's feet design is possible but a daunting job. A pair of cleats that can provide unrivaled traction, cushioning in case of jump, breathable for air ventilation, and eye-catching design is perfect for lacrosse. Therefore, finding a pair of cleats with all these features is time taking. But I have done this job for you, do not waste hours searching for cleats, I gathered the best lacrosse cleats for you. Come with me!
IMAGE
PRODUCT
FEATURES

Best Overall

Best Overall

Molded EVA insole
Shock absorption
Odor control

CHECK PRICE

Abrasion resistant
Dusk density TPU
Ankle support padding

CHECK PRICE

Best Value

Best Value

Rubber molded cleats
Aesthetic tool
High top design

CHECK PRICE

Sweat absorption
Mesh tongue
Heel pull tab

CHECK PRICE

Multiple variants
Signature design
Shallower sidewalls

CHECK PRICE

TPU Overlays
Traction outsole pattern
Slippery resistant sole

CHECK PRICE

Impact absorption midsole
Heel counter
Breathable body

CHECK PRICE

Temperature management
Anatomical design
Antimicrobial treatment

CHECK PRICE

Hybrid tongue
Easy closure
N-Durance Outsole

CHECK PRICE

Removable insole
High traction nails
Ankle support

CHECK PRICE

Reinforced heel counter
Material Polyurethane
ProMotion plate

CHECK PRICE

Stitchable construction
Wide front
Data-Driven design

CHECK PRICE

Youth Lacrosse Cleats

Youth Lacrosse Cleats

Flexible
Extra support for the ankle
Moisture-proof body

CHECK PRICE
1: Under Armour Women's Glory Mc Lacrosse Shoe – Best Womens Lacrosse Cleats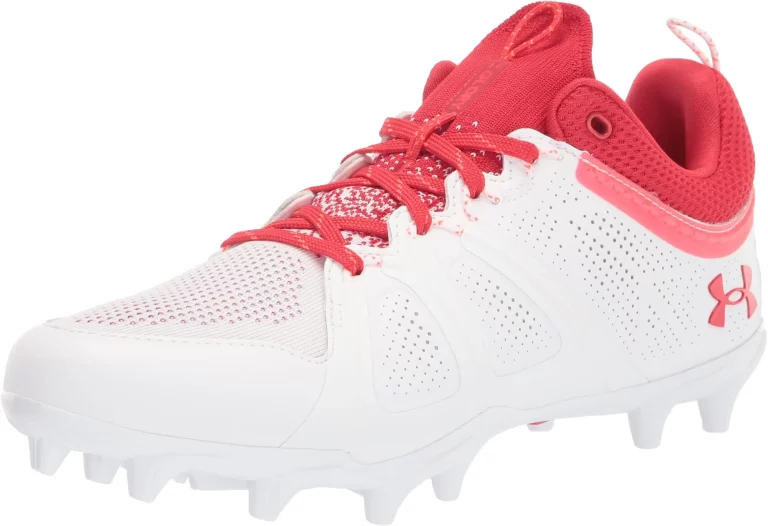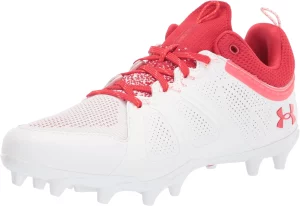 Key Features:
If you want to become a champion in your team then the ideal option I have for you is the Under Armour Women's Glory Mc Lacrosse Shoe. First, it is one of the most popular because of its next-level grip. Secondly, the other features it offers are unique even though no lacrosse cleat offers such properties.
Let's start with the grip, it has high nails on the outsole which provide such an excellent traction job. No matter how fast you are running, the cleats will eliminate every chance of slipping. Then comes the design and shape. As we all know, women's feet are a bit different than men's feet. These differences are considered while making it. This means, you will feel highly comfortable while wearing the shoes and it will enhance your performance on the field.
You might have focused on the odor that comes out of shoes after you put them off. That is because your sweat is absorbed inside the cleats. Well, you cannot stop sweating nor can you change shoes every hour during the game. But you can use these shoes as they are made of breathable material and have the ability to absorb the bad odor of sweating, such incredible cleats for women's lacrosse.
Wrapping Up!
No one can beat you on the field if you are wearing these shoes. They are not only high-performance cleats but also made of high-quality synthetic material. The average life of this one of the best women's lacrosse cleats is about 3 to 5 years. These cleats are perfect, so do not overthink, tap the button and purchase them.
2: New Balance Women's Burn X2 Mid Cut Lacrosse Shoe – Best Lacrosse Cleats Women's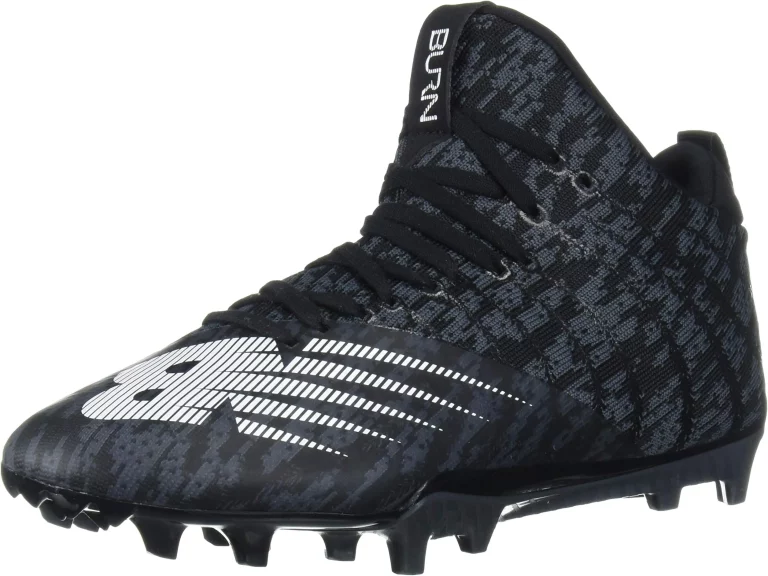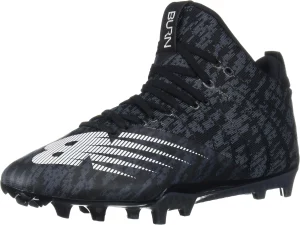 Key Features:
A lacrosse cleat is all about maintaining balance running at high speed. Most of the lacrosse cleats provide high speed but a few of them are efficient enough to help you maintain proper balance. Under Armour Women's Shoes were great in terms of speed but when it comes to balance at high speed, the shoes required improvement. So, I have something that can fulfill your balance desire, the New Balance Women's Burn X2.
The cleats are known for their next-level performance and rich features. First, they are made of tough material that if you intentionally slide on the ground, will keep your feet safe. The abrasion protection body is hard enough to prevent foot injuries. Then comes its ankle support padding, if you don't know, it is for enhancing the balance and providing an easy running experience.
Imagine you are playing lacrosse and the match is in the last moments, only a single score can make you a winner and as a responsible player you have to show your best performance. Cheap cleats would have left you with sore feet by the end of the game hindering your performance. However, New Balance Women's Burn X2 will not let you feel even the slightest sensation of pain in the game and even later.
Wrapping Up!
Being a woman sportsperson, I can understand the cushioning requirements of other lacrosse players. But if you ask me about the padding and cushioning cleats for women, I will recommend this one of the best lacrosse cleats. It is not only soft but also prevents injuries, so play fearlessly!
3: Under Armour Women's Highlight Mc Lacrosse Shoe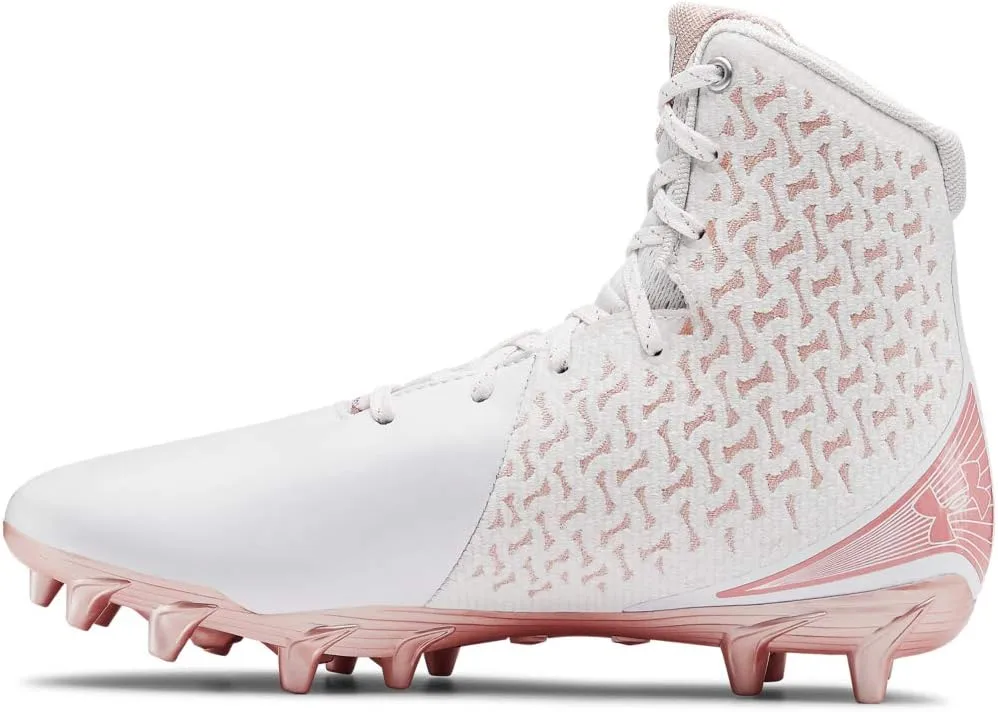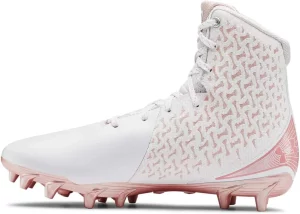 Key Features:
I have been playing lacrosse for more than 8 years and I never found such incredible shoes. New Balance Shoes were perfect for sensitive feet women but I have something that is for all kinds of feet type, the Under Armour Women's Highlight Mc Lacrosse Shoes. The above shoe was a good one but it was not attractive as compared to Highlight Mc cleats, therefore, I brought one that offers both beauty and softness.
The cleats are made of 100% synthetic material and crafted delicately. Once you see and touch the cleats you will realize they are made of ultra-durable material and their looks are highly attractive. After this, its 4D foam sheeting is there covering the forefoot, back shoe ceiling, and heel area of the cleat. As you put your foot inside the shoe, it gives the next level of soft feeling.
The best side of these cleats is that they increase stamina and allow you to unleash your full potential. To add more to your performance, it has rubber molded cleats on the outsole, they are not only grippy but also eye-catching. Moving on further, the shoe has a high-top design, it will provide more ground clearance and allow you to run as fast as possible.
Wrapping Up!
In my opinion, the best cleats are ones that suit your personality. But the positive side is, Under Armour Women's Highlight Mc Lacrosse Shoes are suitable for everyone. If you have wide feet, it will become wider automatically, if you have normal feet, it will stay the same for the rest of your life. That's why I call them one of the best women's lacrosse cleats.
4: Under Armour Women's Highlight Turf Lacrosse Shoe – Best Women's Lacrosse Turf Shoes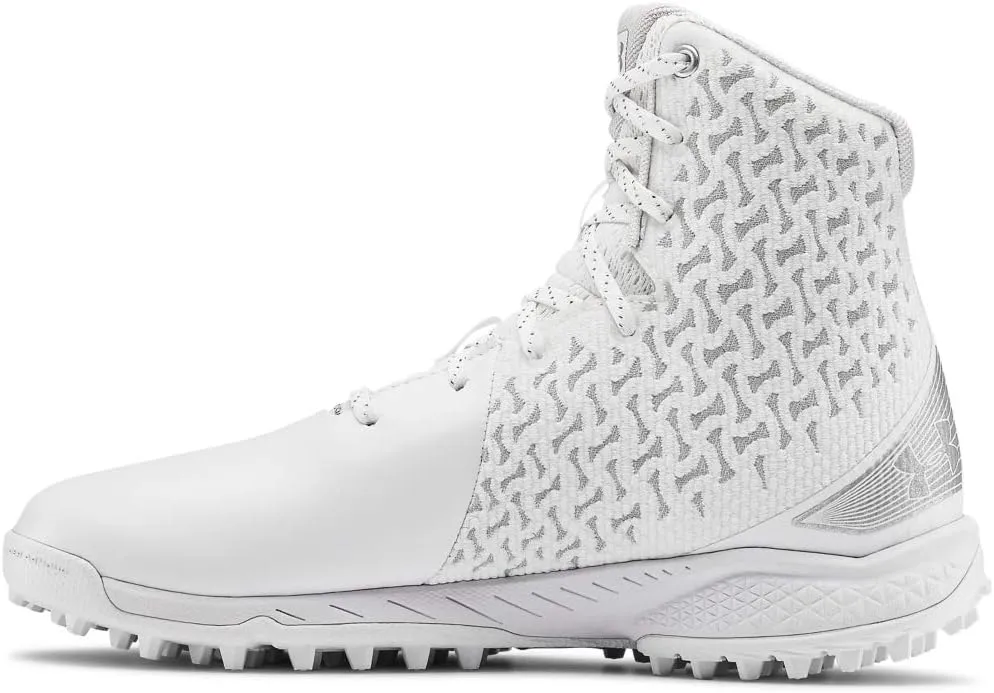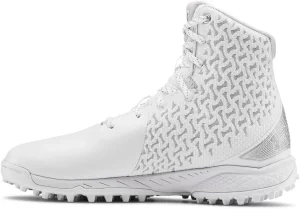 Key Features:
The only brand I appreciate for making the best lacrosse cleats is Under Armour. My perception about this brand changed when I used its Highlight Turf Lacrosse Shoes, they were extremely lightweight and provided an inexplicable experience. In comparison to Highlight MC and Highlight Turf, the most lightweight cleats are the latter ones. If you are suffering a foot problem; injury or pain, you should use Highlight Turf Lacrosse cleats.
The shoes inspired me from the time I started using them. I used them for both indoor training and outdoor games and these cleats always proved themselves. The reason behind its universal and reliable performance is its lightweight and extra-padded interior. The cleats have a heel pull tab for preparation and training. And in terms of cushioning, they have EVA-injected footbeds.
Well, the lightweight and padded shoes increase your power to play more but when you spend more time running, jumping, and sliding, your feet may get sweating. It will not only stop you from performing your best but also insist you leave the game in the middle and take the cleats off. But this cleat is different, it has sweat-resistant abilities, in case you start sweating the synthetic material and high-technology foam will soak up the moisture inside the shoes.
Wrapping Up!
The shoes are only for those seriously interested in boosting their lacrosse skills, running speed, response attack rate, and so on. These shoes are not like traditional cleats, once you wear them, you become unbeatable. It is time to change the old shoes and bring these incredible cleats for the next championship.
5: Under Armour Women's Finisher Turf Lacrosse Shoe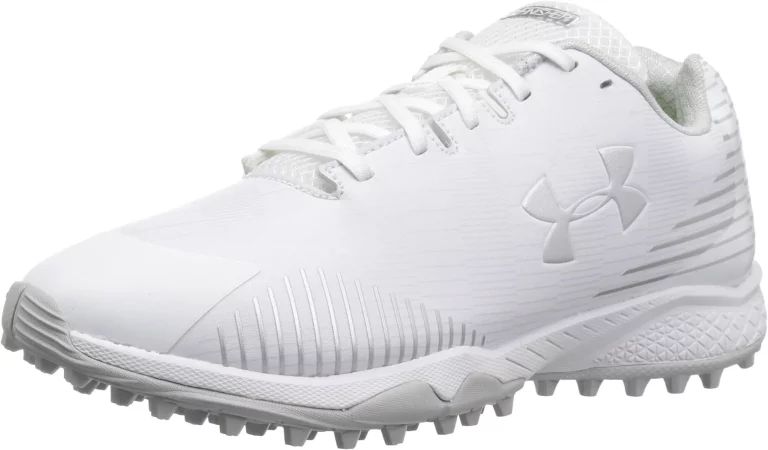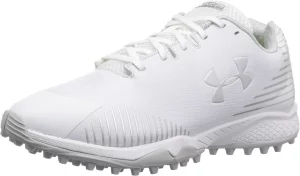 Key Features:
My docket is full of the best women's lacrosse cleats and the new one in my collection is the Under Armour's footwear with small cleat nails. I am not against the Highlight Turf lacrosse shoes but their cleats are too high. The new version of Under Armour cleats, the Women's Finisher Turf Lacrosse Shoe, are specially designed for playing on rigid and hard turf grounds.
Women who are struggling to find small nail and high turf cleats should go for a pair of these cleats. They are grippy and provide a perfect amount of traction. If you are playing with these cleats, you will never fall until you intend to slide. I have used multiple cleats but never saw one with tiny teeth and an excellent grip. Moving on further, the shoes have a D-cut EVA sockliner for enhancing the experience of cushioning.
The cleat has a rubber outsole and a forefront guard. The purpose of using rubber as a sole is to make these cleats lightweight and increase durability. Also, the forefront guard is to prevent toe and forefoot injuries. Now I am going to reveal the reason why I use these cleats, they have speed plate technology.
In more simple words, the midsoles of these shoes are cushioning plus they are made to bear heavy weight. The speed plate technology increases speed and maximizes the energy of the player.
Wrapping Up!
Lacrosse is not a simple game, it requires your 100% effort and full attention. You cannot give both of these two things to the game unless you have the best lacrosse cleats with soft interiors and high stability. Bring these cleats and show your best performance on high turf.
6: Nike Alpha Huarache 8 Elite Lacrosse Cleats – Best Girls Lacrosse Cleats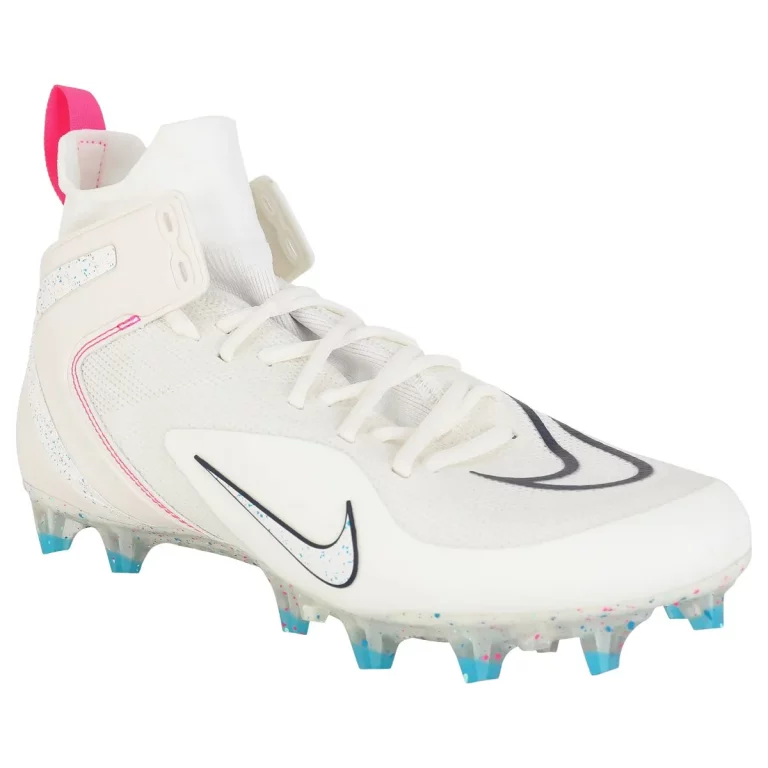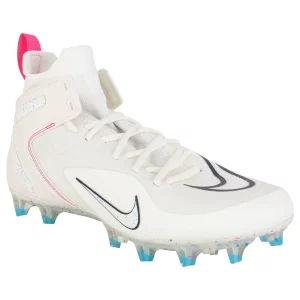 Key Features:
After using Under Armour for years I thought about changing direction. Actually, tiny changes can create a significant difference and I learned this rule after using Nike cleats, the Alpha Huarache 8 Elite Lacrosse Cleats. The above cleat was perfect for the beginner but if you want a cleat for all levels of the players then purchase Alpha Huarache 8 Elite.
As the name suggests, it is made of elite quality material, the amalgamation of synthetic upper, mesh panels, and TPU overlays make it one of the most long-lasting cleats for women. I have been using them since their launch and still, they have not a single mark of deterioration. I recommend it to those girls who often ask for a more durable cleat. The average life of those cleats is about 4 to 6 years depending on the way you use them.
After material, the design is the second most impressive feature. The ankle support and full foot covering design are the solutions to all your problems of security and safety. Not only this, the sock-like fit is snug and suitable for your feet. Once you put your foot inside the shoe, its grippy interior will grab your foot and allow you to play confidently. I have experienced that the more snug a cleat is, the better you play with it.
Wrapping Up!
If you still use the old cleats with oversize fitting and less cushioning, you cannot progress in the game. I have tested multiple times and concluded that the oversize fitting versus the fitting of the Alpha Huarache 8 Elite are completely different. These shoes made me a winner multiple times. If you want to become a champion and enjoy status as an expert in lacrosse, then purchase this one of the best women's lacrosse cleats.
7: Nike Alpha Huarache 8 Pro Turf Lacrosse Cleats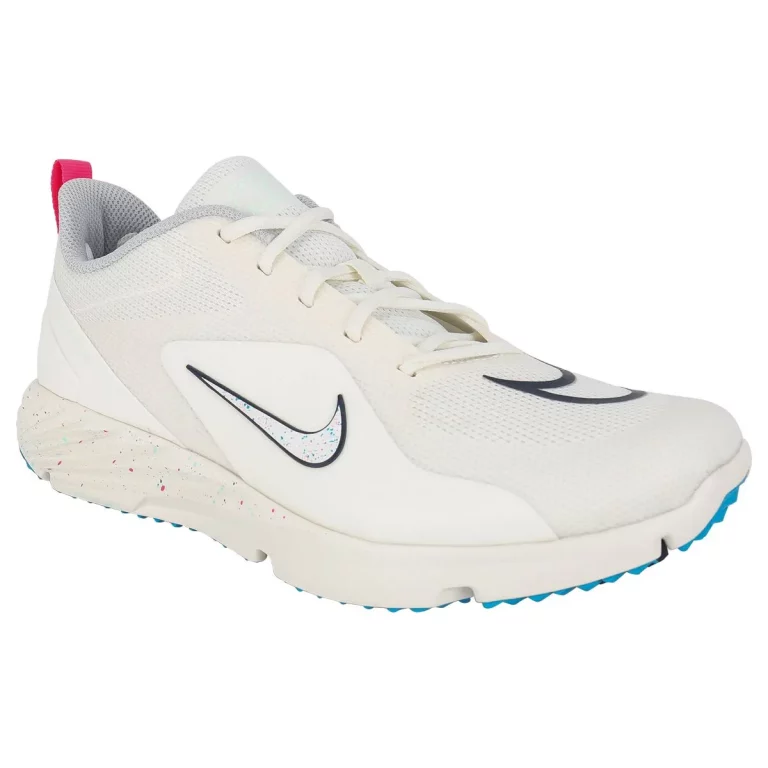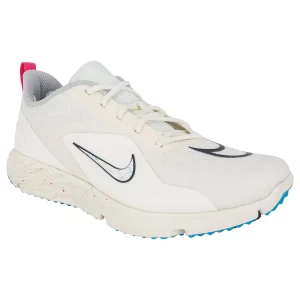 Key Features:
Those women who consider that there are no sports shoes suitable for them should try the Nike Alpha Huarache 8 Pro. Its previous version was also admirable but it was covering a complete foot. On the other hand, Huarache 8 Pro is for people who feel uncomfortable with the entire foot covering. It is not only different in terms of coverage but also its features vary both of them from one to another.
First, it has little cleat nails which are helpful for professional players. Because the advanced players know how to stay grippy on the ground so they do not require the high nail cleats. In short, these cleats are perfect for advanced and professional players. Second, its heart-touching looks, vibrant color scheme, and stylish design make it one of the best women's lacrosse cleats.
Plus, the shoe is available in multiple colors, so if you do not like one then pick up another. Stepping ahead, the shoe has a phylon foam midsole for taking your comfort level from 10 to 100%. Its midsole is able to absorb impacts and maximize your stability on the ground. In my experience, I move freely when I play lacrosse with these shoes. The cleats have a heel counter to protect the most sensitive area of your foot, the heel from shocks.
Wrapping Up!
If you feel hard sometimes, you become discouraged and lose hope while playing the match, you should wear these cleats. Their magical cushioning, ultra-level performance, and aesthetic design will push you to win the match. It is not about playing lacrosse with the best shoes but also about winning the game. So leave all other cleats and buy ideal ones.
8: Under Armour Women's Glory Turf Lacrosse Shoe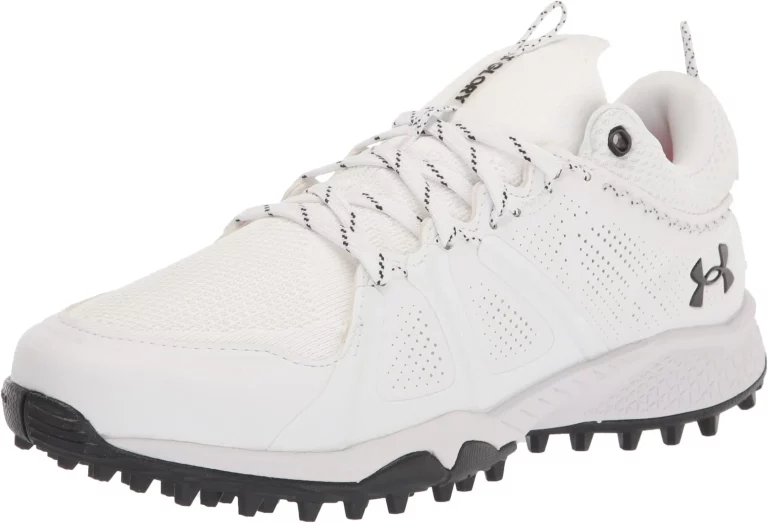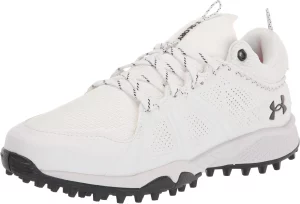 Key Features:
Nike manufactures the best women's lacrosse cleats, well, the problem is not in the shoes but their prices. Not all of us can afford a high price shoe with luxury features. However, we all have the right to enjoy deluxe quality so I have found something that can fulfill both demands. It is inexpensive and offers the same and sometimes better features as compared to its Nike rival the Alpha Huarache 8 Pro.
Your guess is accurate, I am talking about the Under Armour Women's Glory Turf Lacrosse Shoe. The footwear is made of top-quality, unbreakable, and impossible to tear synthetic material. The rubber outsole is there for shock absorption, you may have often felt pain in the feet after playing for a long duration. That is because of shocks that occur when you carelessly run and move.
But instead of caring and wasting time overthinking about movement, wear these rubber and shock-resistant outsole shoes. They also offer Micro G cushioning inside the cleats to eliminate the chances of a foot injury and provide a heavenly experience when you move. Further, the cushioning makes your run easy and allows you to run more than usual, it decreases your fatigue and enhances stamina.
Wrapping Up!
Lacrosse is a game in which you need to be perfect at every skill from focus to running and quick movement. The only way you can improve movement and pace is by using the ideal and most suitable shoes like Glory Turf Lacrosse cleats. So, start using the shoes and see the improvement in your performance.
9: New Balance Freeze LX V4 Low Lacrosse Shoe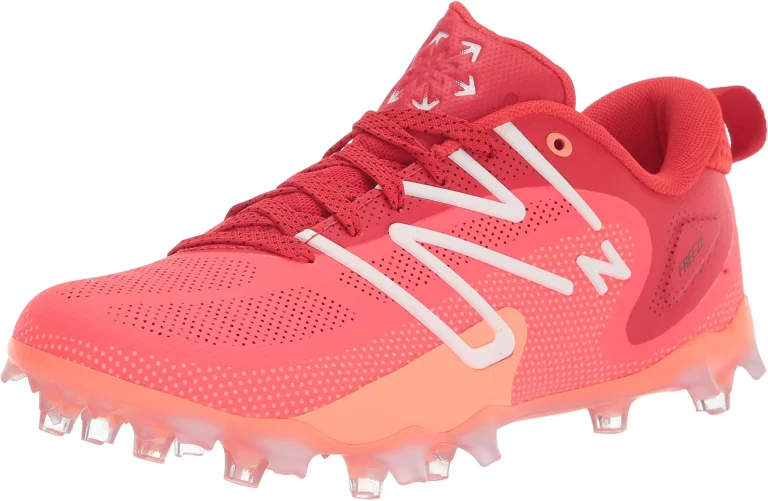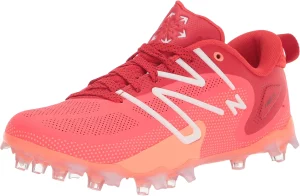 Key Features:
The further we proceed in the guide, the more interesting it is becoming. In this world of lacrosse cleats, we have multiple rivals and the latest one is New Balance. I started using New Balance shoes to experience something new and I found what I longed for. The cleat name is Freeze LX V4 Low Lacrosse Shoes. I bought them because of their impressive design and perfectly crafted body.
If you want to use attractive looking cleats with advanced features, you should use these cleats instead of Glory Turf Lacrosse Shoes. The cleats have transparent nails shining like tiny stars. The wider and low style cleats are designed to provide maximum balance. Majority of the women face problems while maintaining stability at a fast pace. But if the case is similar to yours, start using these cleats.
Then comes the feature that attracts all the great lacrosse legendary women to use these cleats, the FantomFit technology. The uppers have a breathable body, perfect air ventilation, and lightweight properties. Not only this, such uppers are good for snug fitting and comfortable movement. You may have experienced that the outsole runs out sooner than any other part of the cleat. But this one has an N-Durance outsole that can stand against all kinds of shocks, jumps, and bumps.
Wrapping Up!
My duty is to show you the best women's lacrosse cleats, it is up to you whether you pick them or not. But I should add that these lacrosse cleats are exceptional, they provide unmatched performance no matter where you play with them.
10: New Balance Freeze LX V4 Mid Lacrosse Shoe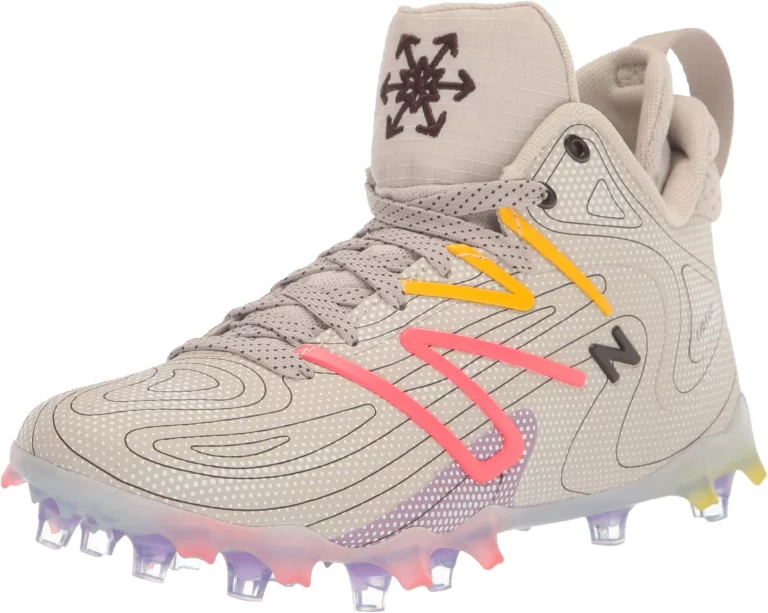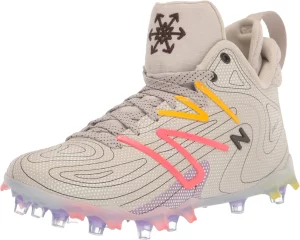 Key Features:
Changing a brand is like going to explore something new in life. I did the same, after Under Armour and Nike, I started using New Balance and it fixed my dissatisfaction problem. The cleat I am going to mention is my favorite one because of its design, its shape, body, properties, and specifications. I am talking about the next version of the above cleat, the Freeze LX V4 Mid Lacrosse Shoe.
The reason I prefer this one over the other is that it offers ankle support. Such cleats are more stable, and decrease the chances of injury, in case of pain in the foot the ankle support cleats provide a relieving experience. Furthermore, the cleat is perfect for all kinds of temperatures, you can use it in the summer or go out in the winter wearing the cleats, they will neither cause sweating nor allow the cold breeze to enter inside the shoe.
The previous version was excellent but there was a major weakness that you cannot wash it. This one is different, it has washable material, you can wash them in a machine or dip them in a bucket, and they will never tear apart. Another characteristic is that it offers customization, in case you wear and do not like its cushioning then change it. Take the removable insole out and put another one effortlessly.
Wrapping Up!
The time has arrived to change your old broken cleats because they are the major reason for the gap between you and the trophy. If you do not start using the quality shoes like these ones, you will not be able to win the match. So, waste the old ones and order these brand new high-performance shoes.
11: New Balance Rush V3 Low Lacrosse Shoe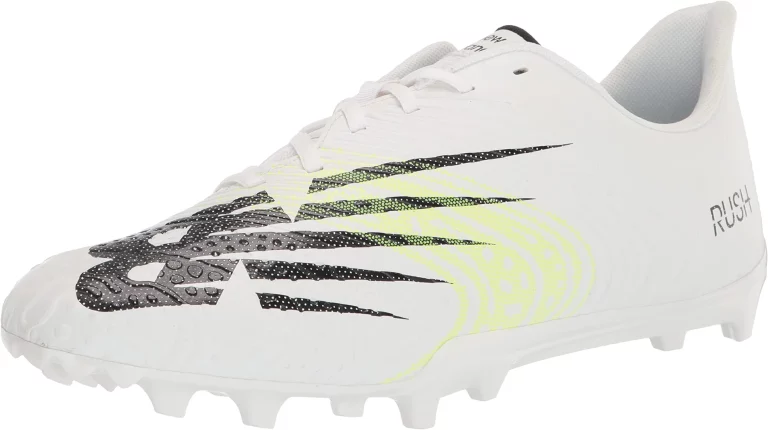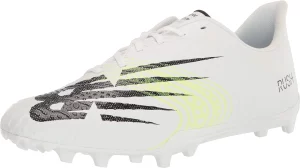 Key Features:
New Balance is one of the most famous brands in women's sports dressings and footwear. Its recently launched cleats have top-notch features and offer beyond imagination cushioning. The above shoes are also perfect for lacrosse but they are a bit heavy. Therefore, I am recommending the Rush V3 Low lacrosse Shoe if you feel uncomfortable with the heavyweight shoes. These cleats are lightweight as compared to the previous ones.
In women's sports, we can perform our best if we are wearing lightweight dressings and footwear. The reason behind successful lacrosse players is their lightweight equipment. Well, I was in search of lightweight cleats and I found these ones. After 2 months of practice with these cleats, I noticed a considerable change and improvement in my performance.
These cleats have reinforced heel counters to eliminate the chances of heel injury. Plus, if your cleat heel area is more cushioning than usual, you can jump higher and run faster. On the other hand, the cleats are made of rigid polyurethane and during the construction, the manufacturer installed the ProMotion plates. They are for enhancing the speed and allow you to move freely back and forth and left and right.
Wrapping Up!
Winning a lacrosse match is not as simple as it seems, players should consider each small to major concern such as the quality of the stick, grip, or cleats material. The chances of winning a game are high if you use a cleat made of high-quality material otherwise, no effort will work for you. Therefore, take a wise decision and buy these ideal women's cleats for lacrosse.
12: New Balance Burn X3 Speed Lacrosse Shoe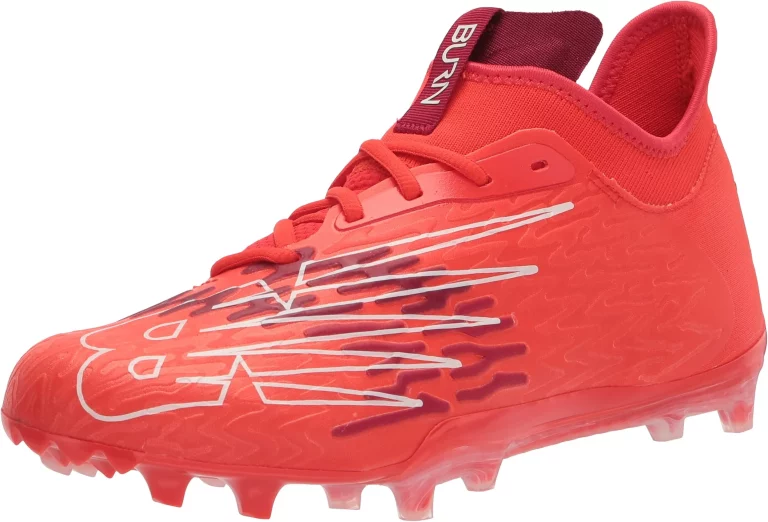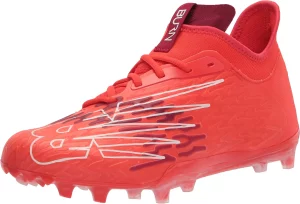 Key Features:
The second last cleat on my docket is the Burn X3 Speed Lacrosse Shoe by New Balance. I have been using it for a long time and in my experience, there is nothing better than this one. It is good for many reasons, first, the cleat has normal size nails, neither too high nor too short. Such nails provide perfect ground clearance as well as they are good for playing on both the turf and the original grass.
The normal size nails provide superior traction, it will increase the balance you often lose while defending and enable you to become a good attacker. After this, the Data-Drive design is also famous for increasing speed, agility, and stability on the ground. No one can stop you if you are wearing these cleats.
Unlike the above one, these cleats have a wide front, so you can effortlessly put your foot inside the shoe. Plus, the stitchable material shoe is for both wide feet and normal feet people. If you have a wide one, wear the shoe for a short duration and it will automatically loosen. Otherwise, the cleat is perfect for normal feet people.
Wrapping Up!
When you are passionate to become a champion and struggle hard, die trying but are unable to get a trophy, then you need these cleats. The problem is not in your skills but in the way you move. Purchase these cleats and get a trophy. Do it as soon as possible before all the pairs are sold.
13: New Balance Kids Freeze LX V3 Lacrosse Shoe – Best Youth Girls Lacrosse Cleats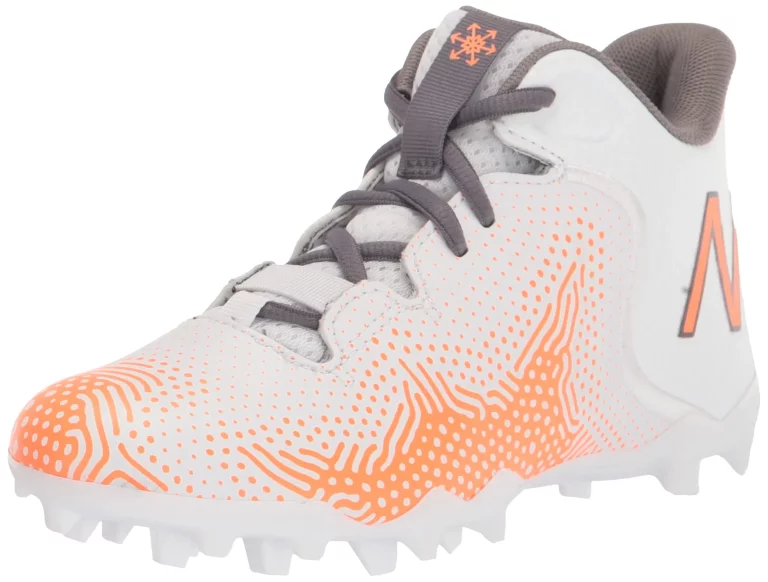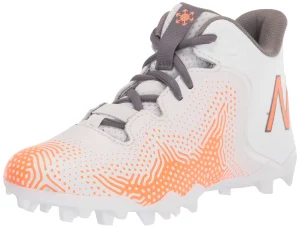 Key Features:
If you are looking for a pair of lacrosse cleats for your daughter, then you should not purchase anything except the Kids's Freeze LX V3 Lacrosse Shoe. These recently launched New Balance cleats are super durable and eye-catching. The majority of the kids do not focus on the way they use shoes, therefore, it is your responsibility to hand them over long-lasting lacrosse cleats.
And the only best option is a pair of Freeze LX V3. Adding a little more, these shoes are flexible and made for beginners. Actually, the adult shoes are more speed focused but the kid's shoes are more stability focused. Once you see the design, its flexibility, and clearly shows that these are the perfect cleats for your daughter.
The cleats have extra support for the ankle for more protection and less chances of injury. They are waterproof, so, if she is careless, these shoes are excellent for her. If your kid spends most of the time on a wet field, then you should think about cleaning her cleats. Thanks to New Balance, it is easy to wash shoes, dip them in a bucket of water for 5 minutes and the dirt will come out of the material.
Wrapping Up!
Most kids are careless, we cannot teach them principles at an early age but we can provide them with durable things such as these cleats. So, if your kid is one who is passionate about lacrosse and also careless, you should trust New Balance and give her Freeze LX V3 lacrosse cleats. A good gift will make your bond more healthy with her.
Buyer's Guide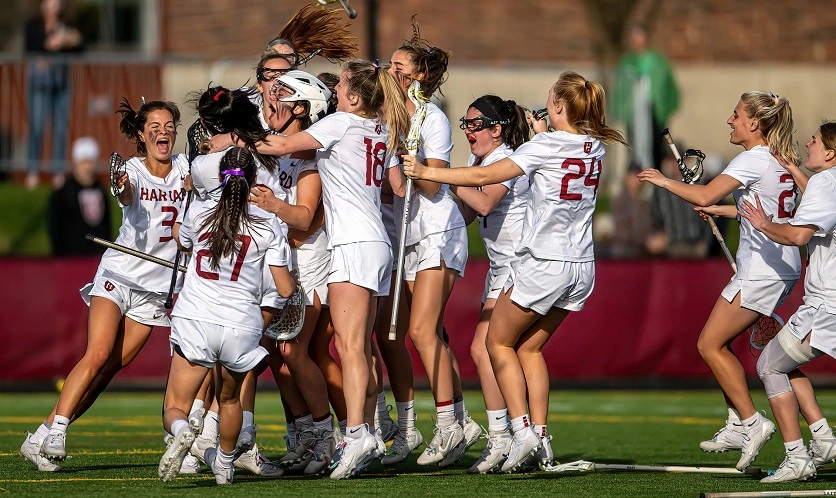 I have wasted hundreds of dollars purchasing lacrosse cleats but most of them did not have the must-have features a cleat should possess. After the bad experience, I understood the features I should look for before purchasing a lacrosse cleat, especially for women. I do not want you to waste your hard-earned money so come with me and explore the properties a lacrosse nail cleats should possess.
Turf Shoes vs. Normal Cleats
The first feature you may encounter is the turf or normal setting of the cleats. Deciding one among them is very important, but the decision is based on the way you are about to use these cleats. If you want lightweight cleats with more stitchable material and want to play on turf or artificial grass mats then you should go for the turf cleats.
On the other hand, the normal cleats are for the original grass. It provides a bit more ground clearance and high balance. The normal cleats are used for tight grip and high stability. But they are a bit heavyweight. So, it depends upon you, if you play on the turf then purchase rubber or turf shoes otherwise the normal cleats.
Fit:
Because lacrosse is all about defending and attacking so you cannot take risks for a single moment. The player has to move as quickly as possible therefore, her shoes play a significant part in the game. If the shoes are over tight you cannot play because after putting the shoes on, you will start feeling pain. In contrast, the loose cleats are unsuitable for running fast and moving quickly.
You should always purchase snug-fitting cleats, first, they provide a better running ability. Second, they offer next-level comfort. If the shoes are perfectly fit neither too loose nor overtight, you will experience a different kind of joy while playing lacrosse. Therefore, purchase perfectly fit lacrosse cleats.
Cut:
Then comes the design or the height of the cleat which is also called cut. There are three types of cut; low-cut cleats, mid-cut cleats, and high-cut cleats. The low-cut cleats are for players who want to move freely. These cleats offer maximum independence for moving in all directions with speed. Then comes the mid-cut cleats, which are good for ankle support and enhance balance and stability.
The last cleats are the high-cut design cleats, they have long ankle support and provide more protection to your feet. They are good for the security and safety of the foot and also offer forefoot guards. But these cleats restrict independent movement. Now you can choose one according to your requirements.
Cushioning:
The majority of the women players neglect the aspect of cushioning and do not know it affects all areas of lacrosse from defending to attacking. Always check that the midsole has EVA-injected foams. Soft foams are more efficient as compared to hard foams. Deep heel cups prevent shocking impact and soft rubber outsoles provide cushioning experience when you walk. So, check the cushioning before you purchase lacrosse cleats.
Frequently Asked Questions
Conclusion
Men's and women's lacrosse cleats are entirely different from each other, so if you are planning to purchase cleats, then buy those which are specially designed for women. They have anatomical design differences, foot size differences, and shape variations. Do not purchase lacrosse cleats without investigating their features and buying the best ones. You can choose one from the above 13 lacrosse cleats but if you are still confused, here are my two favorite ones.
Also see: Best Women's Lacrosse Sticks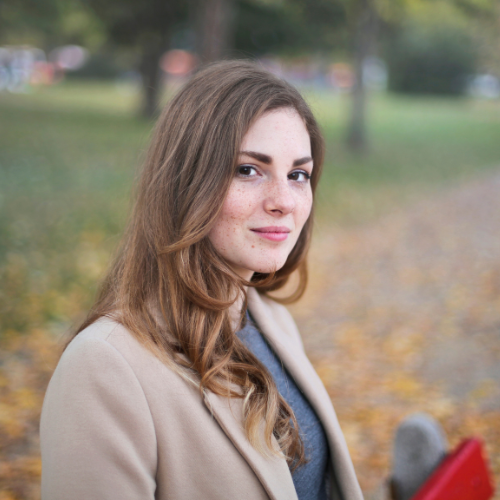 About Author
Hello, I am Amber Zoe. I have liked to play lacrosse since my childhood. I like to play with different teams. I have also been a coach because of guiding the team members well. Not only do I provide athletic guidance, but people know my preference for picking up lacrosse accessories. Because I always read everything very deeply and give a proper review. I have played almost every type of lacrosse ball and sticks. Millions of people liked my advice to get the best lacrosse accessories. So I have decided to write lacrosse reviews for a decade. The information I placed on my review is practical and authentic. You can buy anything which I prefer without any hesitation.